>> Kolektor danych OPTICON PHL 1700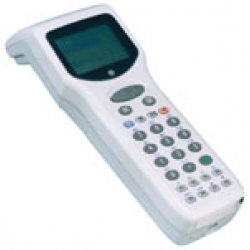 Cena:
5,412.00zł
Cena netto
4,400.00zł
Dostępność:
Dostępny
Model:
PHL 1700
Producent:

Średnia ocena:
Brak oceny
powiększ zdjęcie >>
PHL 1700 to programowalny, przenośny kolektor danych przeznaczony do pracy w systemach, gdzie istnieje konieczność zdalnego gromadzenia danych. Urządzenie wyposażono w laserowy czytnik kodów kreskowych odczytujący wszystkie standardowe kody kreskowe z różnych odległości od okna wyjściowego kolektora. Użytkownik ma możliwość tworzenia swoich własnych programów sterujących pracą kolektora z wykorzystaniem języka C. Wygodna klawiatura i czytelny wyświetlacz pozwalają użytkownikowi na sprawne i łatwe korzystanie z urządzenia. Wyświetlacz posiada podświetlanie umożliwiające pracę w ciemnych pomieszczeniach. PHL1700 może być zasilany z dwóch baterii alkaicznych 1,5V lub z akumulatora Ni-MH. Kolektor wyposażono w złącze komunikacji bezprzewodowej IrDA oraz standardowe złącze stykowe RS-232. Złącze bezprzewodowe służy do wymiany danych z podstawką komunikacyjną lub bezpośrednio z komputerem PC wyposażonym w złącze IrDA. Interfejs RS-232 pozwala na komunikację z komputerem stacjonarnym z wykorzystaniem kabla połączeniowego. To rozwiązanie jest optymalne, jeżeli wymiana danych z kolektorem następuje rzadko. Podstawka komunikacyjna może jednocześnie pełnić rolę ładowarki akumulatorów. Transmisja danych z podstawki do komputera odbywa się przez standardowe złącze RS-232.
Napisz opinię
Imię:
Twoja opinia:
Uwaga:

Nie używaj kodu HTML!
Ocena:
Niezbyt dobry
Bardzo dobry
Przpisz kod z obrazka
Brak dodatkowych zdjeć produktu.